Rhinoplasty in Iran is not limited to Tehran, and other cities such as Mashhad, with their experienced doctors, equipped hospitals and, of course, lower prices, attract many patients each year.
Rhinoplasty in Mashhad has found many applicants in recent years; Especially among people who want to have both a cost-effective surgery and a religious tour.
It will be very interesting for you to read this!
17 questions you had about rhinoplasty but were ashamed to ask it!?
Mashhad is the second-largest city in Iran, which is located in the northeast of the country and has specialized and experienced surgeons.
On the other hand, the tomb of the Eighth Imam of Shiites, Imam Reza is located in this city, which is why this city is the most important destination for Shiite pilgrims. Despite the above, the price of services and accommodation in this city is quite affordable and makes you have enjoyable medical tourism in Iran, Mashhad.
It is important that you can choose the best rhinoplasty surgeon in Mashhad. You should also have information about the price of rhinoplasty in Mashhad and surgical methods. We suggest that you read this article before deciding on rhinoplasty.
before and after photos:

Why should we do rhinoplasty in Mashhad?
If you are going to do rhinoplasty in Mashhad, it is better to know the difference between Mashhad and other cities in Iran such as Tehran, Shiraz, and Isfahan.
Mashhad is the second largest and most populous city in Iran after Tehran due to its religious, industrial, and economic status. It is also one of the most visited cities in Iran for Muslims living in different countries.
In 2017, Mashhad was selected as the cultural capital of the Islamic world among non-Arabic speaking Asian countries by the Scientific, Cultural and Educational Organization of Islamic Countries.
Shiites come to Mashhad from all over the world, especially from Middle Eastern countries such as Iraq, the UAE, Bahrain, Yemen, Kuwait, Qatar, Lebanon, and Syria. Even beyond these countries, many other sects dedicated to Shiite imams travel to Mashhad.
Mashhad has also attracted the attention of travelers due to its quality medical facilities and has long been a medical tourism destination. Medical tourists often travel to Mashhad to receive services such as hair transplants, dental services, cosmetic plastic surgery, rhinoplasty, eye surgery, and infertility treatment.
There are many specialized medical centers in Mashhad, which has led to the admission of many patients from inside and outside the country. Mashhad is also one of the research hubs for the prevention and treatment of cancer and organ transplantation in Iran.
ethnic rhinoplasty in Iran by best surgeons and low price, other details in ethnic rhinoplasty.
Furthermore, the city of Mashhad has the most diverse accommodation facilities including guest houses, inns, motel,s and standard hotels of 1 to 5 stars with quality but cheap. The most famous hotels in Mashhad are Almas Hotel, Pardisan Hotel, Homa Hotel, Golden Palace Hotel, and so on. This variety allows travelers to pay as much as they want for their stay. Although, staying in the best hotels in Iran costs much less than in many other countries.
Who is the best surgeon for rhinoplasty in Mashhad?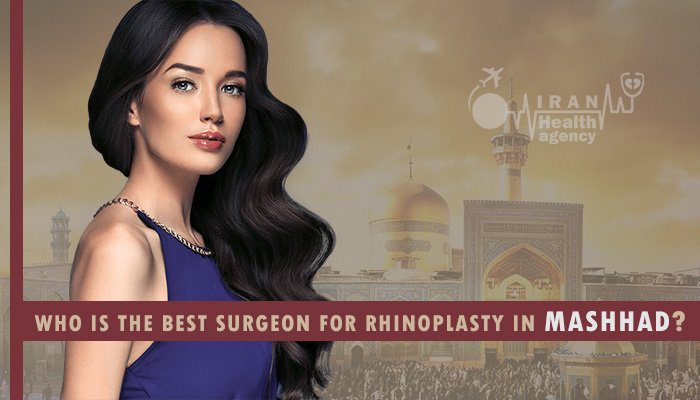 Finding a good rhinoplasty surgeon in Mashhad is the first and most important concern for rhinoplasty applicants. What matters most is the surgeon's experience and knowledge. Improper techniques performed by an inexperienced surgeon can lead to permanent nasal deformities. We decided to introduce some of the best rhinoplasty surgeons in Mashhad in this section.
Dr. Poor Sadegh; Rhinoplasty surgeon in Mashhad, Iran
Dr. Mehdipour Sadegh is an ear, nose, and throat surgeon and a member of the faculty of Mashhad University of Medical Sciences. Currently, his activities are focused on two fields of rhinoplasty and ear diseases.
Dr. Naeemi; Rhinoplasty surgeon in Mashhad, Iran
Dr. Mohammad Naeemi is an ear, nose, and throat surgeon and a facial cosmetic surgery fellowship from the United States and a member of the faculty of Mashhad University of Medical Sciences. He is one of the most experienced doctors in Mashhad in the field of rhinoplasty.
Dr. Bakhshaei; Rhinoplasty surgeon in Mashhad, Iran
Dr. Mehdi Bakhshaei is an ear, throat, and nose surgeon and a specialist in nasal and sinus endoscopy from Tehran University of Medical Sciences. The most important surgeries performed by Dr. Bakhshaei are rhinoplasty, blepharoplasty, ear cosmetic surgery, and endoscopic surgery of the nose and sinuses.
Dr. Khadivi; Rhinoplasty surgeon in Mashhad, Iran
Dr. Ehsan Khadivi is an ear, nose, and throat surgeon and associate professor at Mashhad University of Medical Sciences. He also holds a degree in laryngeal fellowship from Tehran University of Medical Sciences. Dr. Khadivi's specialized fields of activity are Rhinoplasty, Head and Neck Plastic Surgery, Facial Plastic Surgery.
These were just a few of the plastic surgeons working in Mashhad, Iran. Other experienced surgeons also work in Mashhad, including:
Jalalian
Hosseinkhah
Sanjar Mousavi
Gholami
Doctor Teacher
Afshar
Maimana
Lotfalizadeh
Nahid
Rezaei
Zarrin Ghalam
Akbarian
Although a person's skin type, nasal skeleton, and cartilage can affect the result of rhinoplasty, with an experienced surgeon, you can have a nose with a natural and beautiful shape. Also know that nose surgery today is more accurate and predictable than ever. So, if you are careful in choosing your surgeon, you have taken the most important step. Fortunately, Iranian surgeons have been able to obtain the highest level of satisfaction among their clients due to their high expertise and experience. If you want to have rhinoplasty in Mashhad, you can contact the best surgeons through us.
What are the best medical centers in Mashhad?
At present, Razavi, Javad Al-Aimeh, Bint Al-Huda, Sina, Mehr, Taleghani, Pasteur, Akbar, Imam Reza, Ghaem, Arya and Imam Zaman hospitals in Mashhad have the International Patients Department (IPD). If you are planning to have rhinoplasty in Mashhad, you can have your surgery in any of these hospitals; Because they are all equipped with the most advanced hospital equipment.
However, among them, Razavi Hospital is a leader in terms of the number of admissions and income from health tourists. Receiving Temos, an international certificate of quality in the provision of medical services from Germany and a certificate for the highest level of quality assurance of hospital services from the ICAI Institute of Canada are among the most important honors of Razavi Hospital.
How much rhinoplasty in Mashhad costs?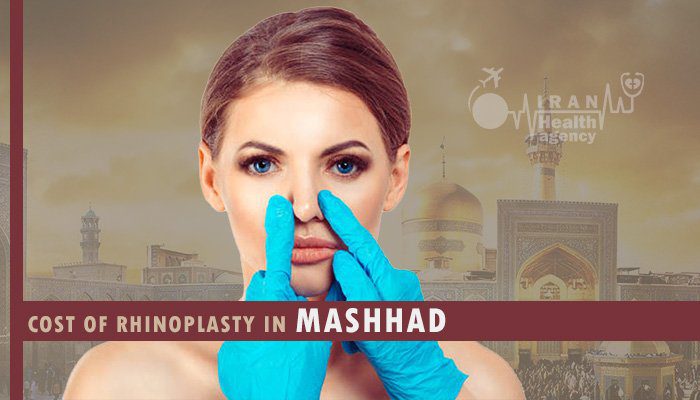 The exact cost of rhinoplasty in Mashhad depends on 4 factors:
Type of nose: Surgery for noses with thick, oily skin is more difficult than for bony noses. Therefore, the cost of surgery will be slightly higher.
Rhinoplasty surgeon experience: You will definitely have to pay more for rhinoplasty with an experienced and skilled surgeon. Junior surgeons are generally willing to perform rhinoplasty at lower prices. But you have to accept the risks.
Hospital where the operation is performed: The facilities of the surgery center affect the cost you pay for rhinoplasty in Mashhad.
Changes applied to the nose: If your goal is only cosmetic surgery, you will pay less. But if cosmetic surgery coincides with correcting the nasal problems, the cost will be higher, such as rhinoplasty, which is performed simultaneously with the elimination of nasal deviation, removal of nasal polyps, and so on.
We have to admit that rhinoplasty surgery is very complex and the surgeon uses his art and expertise at the same time. The price of rhinoplasty in Mashhad, taking into account the above four factors, varies from $ 300 to $ 900, which is much cheaper than American and European countries and even countries such as India, Turkey, and Azerbaijan; while, the experience and skills of Iranian surgeons are much higher.
https://iranhealthagency.com/wp-content/uploads/2020/12/rhinoplasty-in-Mashhad.jpg
400
700
siavash
https://iranhealthagency.com/wp-content/uploads/2021/05/logo-iran-h.png
siavash
2020-12-28 15:05:57
2021-02-02 08:25:31
rhinoplasty in Mashhad