every thing about hair transplant in Iran that you should know on this page with cost and price and also different methods of hair transplant in iran.
Hair transplant in Iran and its cost :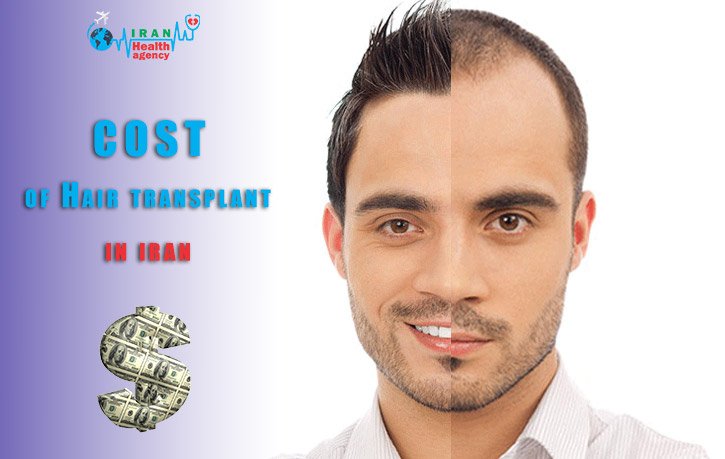 Increment of hair loss in people specially in men leads them to think about hair transplantation. but obviously and logically getting informed about A to Z of this action before going through it makes more sense. Stay tuned to get more data and information about transplant cost  in Iran and the normal procedure.
you may
like

too see: 20 must-know about beard transplantation.
What is hair transplant?

We can call hair transplant a kind of surgery that moves hair in the area you already have to cover it with thin or no hair. Let me add hair transplant in Iran  not only attracts those one suffering from baldness but also tempt those who desire to alter their hairlines or obtain a stunning mane.
Make the long story short, does  the hair transplant in Iran meet your needs?
First of all, lets go through some important factors and items that might help you to get rid of your hesitation of having hair transplant in Iran.
1.skilled specialist: there are plenty of professional and experienced surgeons have been operation in hair transplant field .as you know Iran has reached the highest number of plastic and cosmetic surgeries all across the word thus obviously employing skillful and  the best plastic surgeons is the obligatory item of this achievement
2.usage of the latest technology: hair transplant in Iran is done by the utilization of most updated facilities and also methods (you can read more on different methods of hair transplant in Iran.
3.good reviews and positive result. there were huge number of patient satisfied with their hair transplantation in Iran.
 the sidelong and excess hair transplant cost in Iran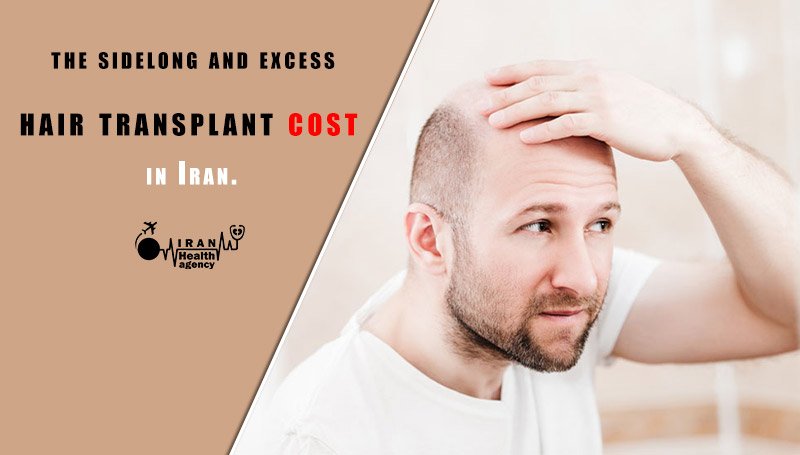 Let's take a glance at the hair transplantation cost in the other countries then we will dig more in hair transplant cost in Iran.
In basis of recent statistic hair transplant in other countries overly starts from 4000 USD and goes to 9000 USD.
But hair transplant cost in Iran differs under affection of various factors.
For instance, city: Hair transplant in Mashhad is different from hair transplant in Tehran and normally is done at the lower rate.
Second reason can be clinics and hospitals and their difference in grad. But since Iranhealth agency's mission is obtaining 100 percent satisfaction of customer thus has singed the contracts with first grad hospital and clinics in Iran and also different cities to fascinate the way to succeed. Being a top company in medical tourism Iran field will not be achievable out of a blue and over a night
The size of baldness or hairless area is effective on hair transplant cost in Iran. actually there is different quote for beard, eyebrows, head hair transplant in Iran.
famous and skilled doctor sometimes asks for more money. But against the odd. Iran health agency, the customer-oriented medical services company and involving in medical tourism Iran field has always tried to offer a quotation in the most reasonable way.
Iranhealth 's first priority is customer satisfaction rather than obtaining interest and benefit.
When it comes to hair transplant procedure, the plenty of patients assume that they should base cost on the number of grafts (hair follicles) to be extracted and implanted. The larger the number of grafts, the consequence by more money? Wrong. Older style hair transplant techniques require more of your precious donor hair follicles to be harvested.
Using the appropriate  technique allows for fewer follicles needed to achieve the desired result and caring for the donor area to allow for a future transplant if required is the priority.
Cheap hair transplants can have serious side effects for various reasons . You can get a low- price per graft but you will probably have a low follicle survival rate, so if you have a survival rate of 25-30%, then you will eventually make a very expensive hair transplant.
Hair transplant procedure in Iran step by step: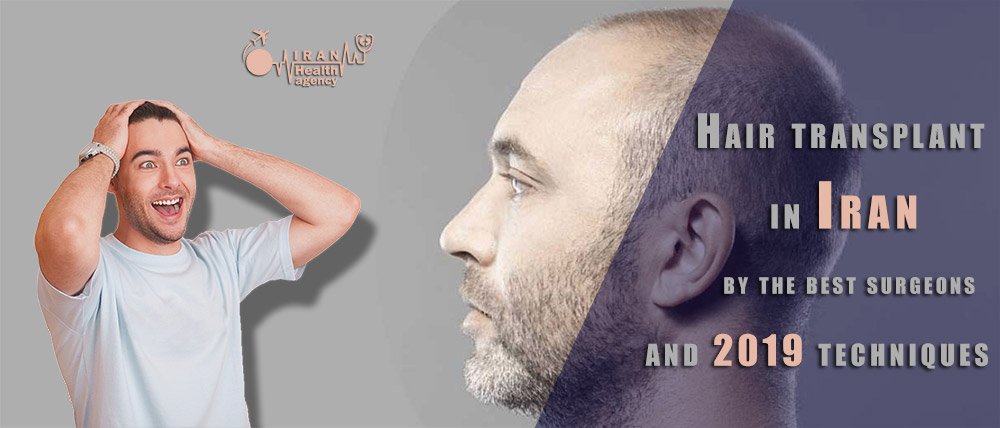 Hair transplant in Iran if all goes smooth takes 5-6 hours which is not an uninterrupted surgery there is a gap of   1-2 hours affected by phase going on in the operation. follow the items below.
Dressing and disinfection of the transplantation requires around 30 minutes
Needle –free Anastasia or any other method will be selected based on specialists diagnose and at least requires 30 minutes.
Collection of hair follicles: It accordingly differs. for example, collection process of three thousand grafts takes 1-1.5 hours.
Bandaging the donor area: after follicles collection the area will be wrapped in order to protect the donor site from external factors for 1 day. this procedure won't take you more than 10 minutes.
Graft transplantation; the riskiest and important section is placing hair follicles one by one into the channels. in this part all the members of health team must be extremely cautious. average time for this phase differs from 1.5 to 2 hours
The last part is general bandage meeting the patients' needs to be well prepared for leaving the hospital or clinic.
This day is considered for rest and avoid from going outside due to Anastasia
effects.
collection of hair transplant before and after:
What are the medical follow _up after the hair transplantation in Iran?
After hair transplant  The surgeon might prescribe some pain killer since your scalp is tender as a   result of done operation on it and may be some antibiotic to protect from infection.
Within 2-3 weeks after hair transplant in Iran the planted hair starts to fall out but the growth of already granted hair will be obviously noticeable within few later months.
According the experience of patients    having hair transplant. most people will see 60 percent of new hair growth after 6 to 9 months.
Different Methods of Hair Transplant
Hair loss has always been a major concern for men and women. Therefore, many people are interested in using hair transplant methods and practices to increase the amount of their. Hair Iran as a target country is an appropriate country where various hair transplant methods are applied. In the following article we are going to give you the necessary information regarding the hair transplant in Iran such as hair transplant methods in Iran and hair transplant cost in Iran.
Can I have Hair transplant in Iran?
You can have hair transplant in Iran and in order to have do this you will only need tourist visa. There is no difference between hair transplant in Iran and other countries except prices as hair transplant cost in Iran is much cheaper.
In this procedure hair follicles units are removed from a part of the back or around the head called the donor area, and are transplanted into a part of the head that has a problem with baldness or hair loss and is called the recipient area.
what is necessary to know about beard transplantation in iran? every thing about beard transplant is on this page
What is effective Hair Transplant method in Iran?
The most recent and most effective method for hair transplantation is SUT. If performed correctly, approximately 100% of the follicles removed in this procedure can survive and develop healthy and normal growth after implantation. The longevity and the perfectly natural state of hair transplants make even your hairdresser fail to recognize the difference between them and your natural hair.
What are available Hair transplant methods in Iran?
Hair transplant methods in Iran are various. There are several ways to do hair transplantation. Following are some hair transplant methods in Iran:
FUE Hair transplant method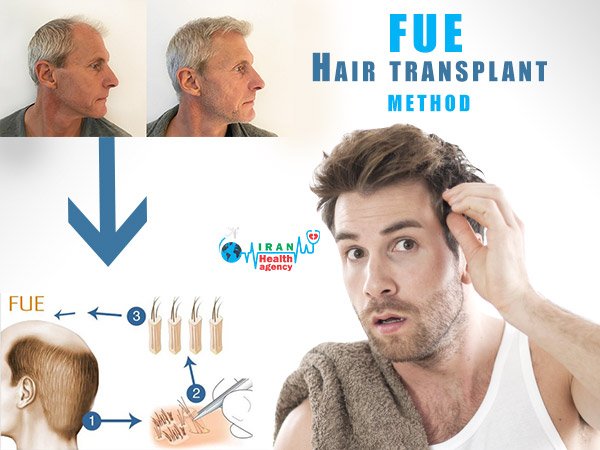 FUE, or follicular unit extraction, is a hair transplant method in which follicles containing one to four hairs are removed from the back or side of the head where follicles are higher in density, and are settled randomly at the front portion. They are planted on the head to give it a natural appearance.
FUT Hair transplant method
FUT or follicular unit hair transplant method is another method of hair transplantation using microscope power. In this method, the microscope will improve the grafting performance and provide more uniform hair coverage, resulting in better results. In addition, the microscope works great for people with light hair or gray hair. When the hair is planted in the desired location, it will grow into sets of one to four strands of hair.
SUT Hair transplant method
The SUT hair transplant method is known as a development in the field of hair transplantation and transplantation, whereby the hair is transplanted without leaving any scars on the head. This innovative method also has been approved by the U.S. Food and Drug Administration (FDA), as highly effective in treating hair loss in both men and women. The SUT method, currently available at the most advanced hair transplant centers, is recognized as one that produces completely natural and indistinguishable results from normal hair in men and women.
BHT Hair transplant method
BHT or Body hair transplant method, also known as BHHT or Body Hair to Head Transplant, is one of the hair transplants performed using the same FUE technique. The difference is that the donor area is not head section but the hair follicles are harvested from other parts of the body. In fact, in this way, different parts of the body such as the beard, chest, waist, abdomen, legs and hands can serve as the donor area. After the hair grafts have been removed from each of these areas, they are implanted in a part of the head that has baldness or hair loss.
Which Hair transplant method is suitable?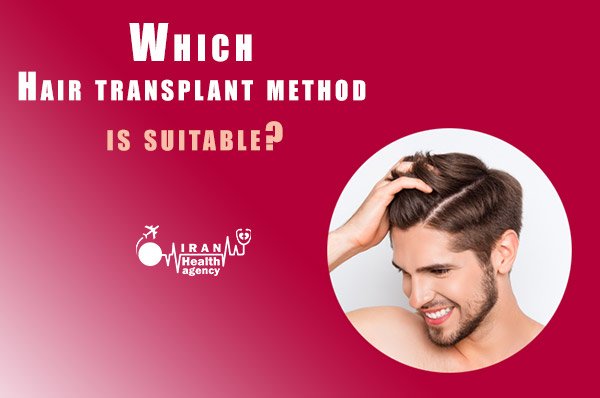 Deciding on a hair transplantation method is not an easy task. We understand very well how difficult and important it can be to make such a decision.
Of course, for any woman or man this can be a difficult and important decision. You can get all the information you need and everything that is important about hair transplantation method and its long-term benefits by attending an additional free consultation with our hair transplant specialist at our center.
At the consultation, our experts will answer any questions you may have and help you make the right decision about hair transplantation method. Our experts will also advise you on the appropriate method that suits your specific requirements. You can contact us through our online form and get for more information to schedule an appointment.
Who are suitable candidates for hair transplant methods in Iran?
Although it is more common for men to have hair transplants, it is not limited to men or women alone. Specialists are the only people who are qualified to identify the right candidate to do the hair transplant.
This largely depends on the severity of the hair loss and the amount of hair available in the donor area. Therefore any one can experience any hair transplant methods in Iran.
How much is the hair transplant cost in Iran?
Hair transplant cost in Iran ranges from $700 to $1,200.  It may vary from one health center to another but hair transplant cost in Iran includes all the related costs such as doctor's visit, anesthesia, surgery fee, and etc. when hair transplant cost in Iran  is compared with the same procedure in the United States and Europe  the Iranian costs are much more reasonable.
Procedure for hair transplant in Iran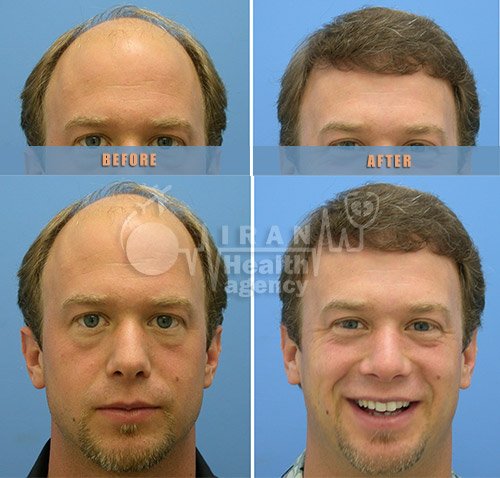 At the time of the hair transplant, the hair follicles are removed from a part of the back that is genetically resistant to hair loss and then implanted into areas of the front of the head that have baldness or hair loss. Before the procedure, the hair of the donor area will be cut short, and then will be removed through surgical procedure. It should be noted that the postoperative recovery period is very short and you can return to work the day after the operation.
Advantages of hair transplant in Iran
Hair growth will be permanent.
Hair transplant cost in Iran is much more reasonable
It fills large portions of the scalp in just one session and produces perfectly natural results.
Hair transplant methods in Iran are various and conducted by specialists
It leaves no scar on the scalp.
It does not cause any discomfort or side effects.
It is a perfect treatment for hair loss.