N0 doubt that the main cause of plenty of life –threating disease is rooted in obesity. For getting rid of tedious weight loss diets and methods, just take a flight and give a shot to long-term weight loss surgery in Iran.

But the prerequisite for wisdom is to obtain complete information that's why I am asking you to stay tuned.
Let me first clarify why weight loss surgery then will prove why weight loss surgery in Iran.
quick access to weight loss surgery
Why weight loss surgery works with obese?
Obesity Definition tells having too much fat which is different from being overweight. Obesity appears as a result of imbalance between calories-in and calories-out, genetic, overeating and laziness and physically inactivity.
These day weight loss surgery in Iran or any other countries has been scientifically proven as a less invasive alternative way to other weight loss technics which no longer work.
Sine weight loss surgery is a lifesaving solution to obesity- related medical condition  such as Type 2 diabetes, Obstructive sleep apnea and High blood pressure.
When it comes to weight loss surgery in Iran?
Normally benefits of weight loss surgery in Iran outweighs them in the other countries.
1-first reason is proficiency and experience of   Iranian surgeons. Easy access to board-certified doctors is the immediate need for any medical tourist. Availability of Plenty of reliable doctor, top in weight loss surgery field in Iran meet the most important need of tourists.
2.top-rated and well-equipped hospitals.
3.thank to lower value of Iran currency (Rial) in comparison to Dollar makes possibility of weight loss surgery in Iran at super affordable price
4.last but not least reason is Iran's culture and tourist attractions
Another popular method of weight loss is lipomatic. For those of you who want to choose between slimming methods, it is not bad to take a look at it.
Why weight loss surgery in Iran with Iran health agency ?
logically medical tourism facilitator in Iran is a reliable, time saving and hassle –free when it comes to having loss weight surgery in Iran.
Clear quotation in advance and no hidden excess expense makes the all cost and financial aspects predictable.
A private interpreter accompanying you throughout the journey bring you the clarification of consultation with your doctor and specialist and also expenses of the partner you may need to help you with your thing and stuff
Connection to the top surgeons is another advantage.
Apart from scales, there are many ways to improve your weight loss program

Iran Health agency is with you to achieve this and your most ideal
Actually The goal of health tourists is to receive prompt, high quality treatment and tourism at the time of treatment or recovering. Therefore, Iran Health Company is founded by experienced doctors and travel consultants who are dominant in all aspects of health tourism.
High quality in providing competitive pricing services to countries in the region and tourist attractions visiting are unique factors that can make Iran health unique.
Another superiority is no waiting list.
As a foreign health tourist, you will not need to stay on a waitlist for a long time for a bariatric surgery in Iran. If you have Iran health agency arrange your procedure, we will organize the surgery and your trip in just a few days.
The sincerity in medical treatment can be related to our religious attitude and beliefs.
Maybe you would like to know other plastic surgeries that are performed in Iran!
For this purpose, refer to plastic surgery in Iran.
How much does a weight loss surgery in Iran
cost

?

Weight loss in Iran is performed relying on surgeon's reputation and experience, type of hospitals and clinics cities' conditions are also effective on a final quote.

For example, weight loss surgery in Mashhad or weight loss surgery in shiraz is done at lower cost in comparison to weight loss surgery in Tehran as a capital.

In a nutshell bariatric surgery in Iran ranges between 2000$ to 5500$.

What our company offers has been clarified in all-inclusive weight loss packages.

Be kind to have a look at
The best cities in Iran for weight loss surgery
The best cities in Iran for weight loss surgery with more reputable and experienced doctors, good hotels for your stay during recovery and rest after surgery and the best hospitals are the following cities, respectively.
1. Tehran
2. Shiraz
3. Mashhad
4. Isfahan
Iran Health agency covers all these cities for weight loss surgery.
Other popular services in Iran
In addition to weight loss surgery, you may also like to have information about rhinoplasty in Iran, which the most famous surgeons can provide services to you in this country at the most reasonable prices.
weight loss surgery in Tehran Iran
Tehran is the capital of Iran and the most experienced surgeons in all fields are available in Tehran. (Although the skills of surgeons in other cities cannot be questioned.)
Slimming surgery in Tehran is performed with body sculpting methods such as lipomatic and liposuction, as well as gastric operations such as bypass and sleeve.
Determining the type of slimming operation suitable for you, by connecting you to our experienced surgeon in Tehran, therefore the least risky method with the best efficiency will be selected for you.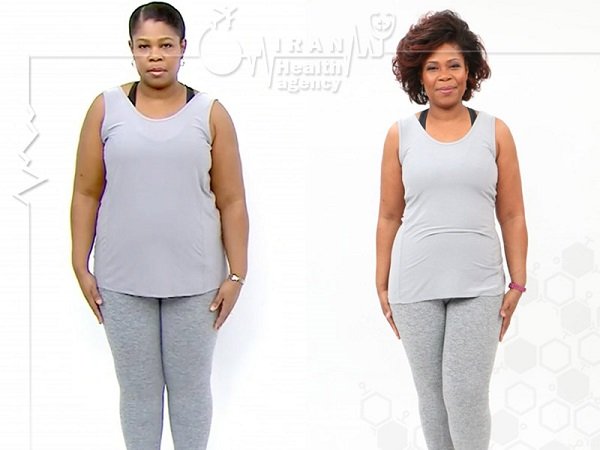 The best slimming surgeons in Tehran:
• Dr. Amin Daryani
• Dr. Ali Ebrahimi
• Dr. Ahmad Reza Dayani
• Dr. Shahin Karimian
• Dr. Babak Niko Maram
The best hotels in Tehran for your stay:
• Spinas Hotel Tehran
• Esteghlal Hotel, Tehran
• Evin Hotel Tehran
• Parsian Enghelab Hotel, Tehran
• Azadi Hotel, Tehran
Slimming surgery in Shiraz, Iran
One of the most important and key cities in Iran for slimming surgery is Shiraz, where in terms of having the most equipped hospitals, the most experienced slimming doctors, ultra-luxury hotels and many tourist attractions, is counted as the center of health tourism in Iran.
The most famous methods of weight loss surgery in the world are gastric bypass, gastric sleeve, mini gastric bypass and body sculpting with lipomatic and liposuction methods. Shiraz has the best specialists holding fellowships who are the member of the American Society of Surgeons.
The best weight loss surgeons in Shiraz:
Dr. Vahid Einabadi
Dr. Mohammad Mehdi Mehrabi
Dr. Sina Ghiasi Hafezi
Dr. Babak Bagheri
Dr. Gholamreza Moin
DR.hashemi zade
The best hotels in Shiraz:
Zandieh Hotel in Shiraz
Homa Hotel in Shiraz
Pars Hotel Shiraz
Shiraz Grand Hotel
Persepolis Hotel Shiraz
About the bariatric surgeons in Iran
The number of general surgeons and specialists in the medical system has grown by 10 times since 2008, with Iranian neurosurgery and laparoscopic surgeons in the region ranking first. Not to mention Iran has the lowest number of minimally
Speaking at the 12th International Conference on Minimally Invasive Surgery and Techniques, less invasive procedures in Iran have made significant progress compared to regional countries, and now most of the equipment and equipment needed are manufactured domestically. Patients have many advantages, such as recovering much less than open surgeries and reducing the rate of injury.
do you like to see medical tourism in Shiraz services??
Shiraz is one of the best cities in Iran in terms of medicine and tourism.
All cosmetic services, including weight loss surgery, can be used in Shiraz.
for see the details, visit medical tourism in shiraz page.
Iran ranks first in Laparoscopic surgery in the Middle East
Actually Iran has the largest Fellowship Center for Endocrinology in the Middle East where Fellowship Training Center, number of surgeries and other treatments have made us leader in the region.
Several of Endovirology techniques available in the world reference books have been put in Iran surgeons' name, and also There are 15 cases in the largest American reference book related to Endovirology and Laparoscopy invented by Iranian surgeons.
The new weight loss surgery named Gastric plication has been invented by Iranian bariatric surgeons.
6 different methods of weight loss surgery in Iran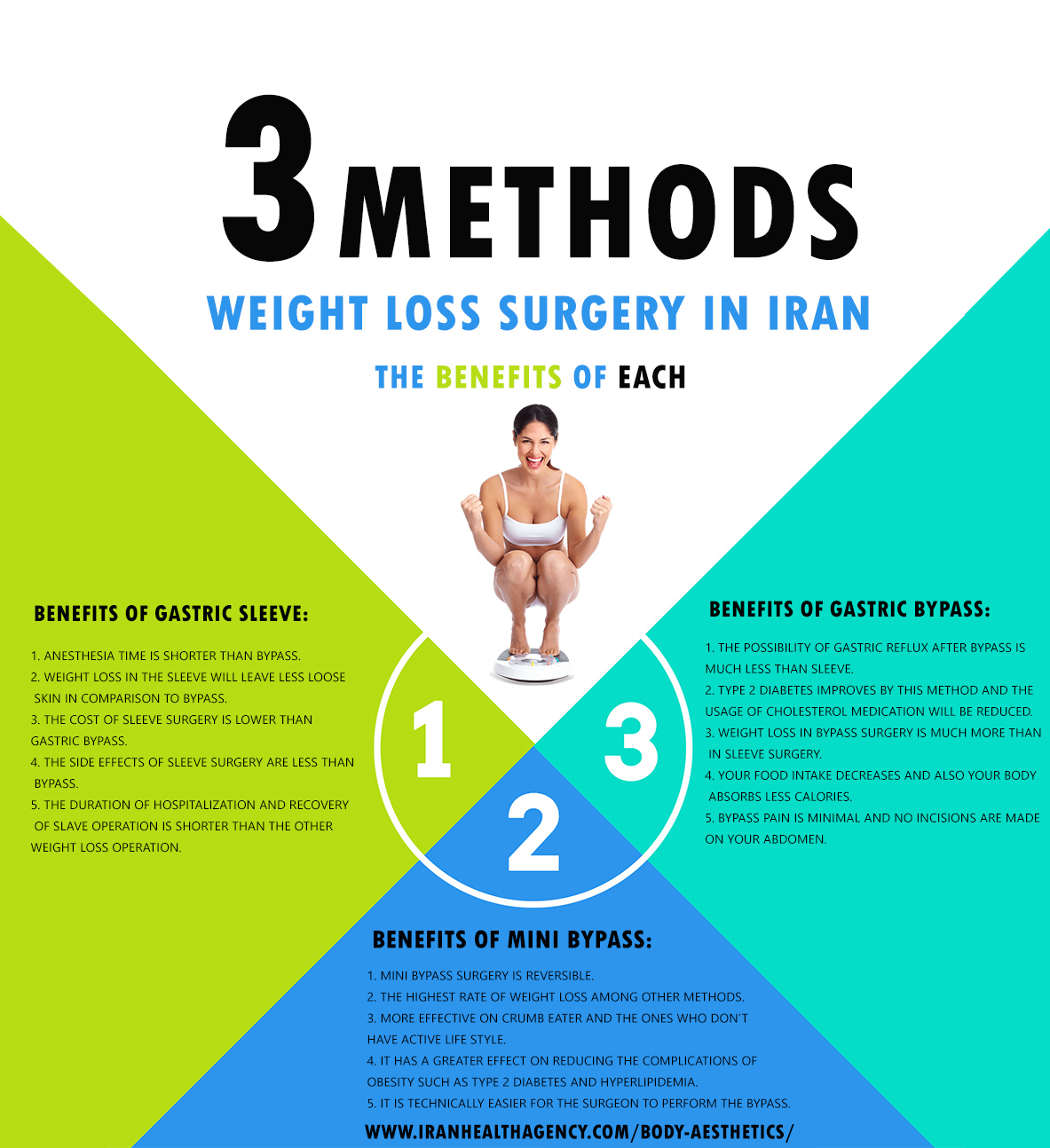 In this procedure, Weight loss surgeons in Iran have come up with two mechanisms of limitation and malabsorption to help obese. In gastric sleeve surgery in Iran, about 80 to 85 percent of the left part of the stomach is removed from the gastrointestinal tract and exits from the abdomen. The new stomach in the shape of a banana is much narrower than a normal stomach, which means restricting the entry of food into the body. Therefore, in the absence of "GLYN hormone" after the operation, there is no appetite for eating.
The "gastric bypass gastric" operation, after the "intestinal bypass" was abolished due to many complications, came to fruition and has a great following in Iran and the world. In this procedure, about 30-50 cc of gastric volume is left intact and the rest is completely blocked by suturing. In fact, they remove a large portion of the stomach from the gastrointestinal tract and then transplant the intestine to the bottom of the stomach to remove food from the stomach. This cuts the distance between food and bile about 200 cm, which is very effective in absorbing food and helping to treat diabetes.
Mini Gastric Bypass: In the Mini Gastric Bypass method, the small intestine is not cut. In this method, the small stomach is attached to small intestine. This new bypass procedure has fewer side effects than the old one, but it is more likely to have bile reflux in this case the bariatric surgeon has to follow the old classic gastric bypass .
Gastric plication; Of course, these operations have many consequences for the patient: frequent gastric emptying, severe indigestion, abdominal pain, bloating, and difficulty in excretion. However, in addition to these complications, Slave's action is more likely to be dangerous. Open sutures and gastric food leakage into the abdominal cavity is one of the most important and deadly events that may occur in the first few days of surgery for the patient. For this reason, a new technique has been invented by Iranian bariatric surgeons. In this way, the left part of the stomach, instead of being blocked or completely separated, is sutured to the pleura and reduced in volume. This method ends up cheaper for the patient because it uses less medical equipment.
Gastric balloon:
 One of the techniques mostly used in weight loss surgery in Iran is "restrictive" means that the bariatric surgeon in Iran will reduce the volume of a part of the gastrointestinal tract by this procedure the amount of food a person receives get decreased.
Perhaps the least troublesome restricting way is the "balloon" in the stomach. Balloons, which can be resized by injecting a special fluid into them, are one of the successful and temporary wight loss surgeris in Iran to treat obesity. The good of this method, besides being low risk, is its reversibility. That is, once a person reaches his or her ideal weight, he or she can remove the "balloon" from the stomach and return to normal life. Such as any bariatric surgery in Iran It has side effects such as nausea, heartache, food stasis and bloating.
Gastric Band;
Bonding is also one of the limiting ways of the gastrointestinal tract. In this way, a special tape, which can be narrowed by fluid injection, wraps around the upper part of the stomach. This makes the person feel full because of the filling of his stomach as he begins to eat. This procedure, like a balloon, is a temporary procedure and is recommended for people with a BMI of 30-35, but the wound site is deeper and needs more care and time to heal.Since the individuals selected for such surgeries are the ones who their B MI Is less 35, the insurer typically refuses to provide them with insurance services. Unless there are secondary illnesses due to obesity problems for the individual to justify surgery
other service

in iran health agency

Abdominoplasty in iran  or tummy tuck is our other service in iran health agency. See the page link for more information
Am I a good candidate for weight loss surgery in Iran?
There are some important and reference criteria to recognize if bariatric surgery work with you or not
First is BMI:
Individuals should be assessed for BMI before taking any action. BMI is a simple equation obtained by dividing weight by the square of the height. Calculating the answer, if it is between 35-40 or above 40 means that the person is suffering from excessive obesity; weight loss surgery is recommended. Otherwise, in figures between 30 and 35 people are obese, but their sliming path does not pass through the hospital and operating room unless they are suffering from specific obesity-related conditions (comorbidities), such as high blood pressure, Hypertension, Diabetes, Uncontrolled gastric reflux or GERD, Obstructive sleep apnea (difficulty breathing during sleep), cardiovascular diseases, High cholesterol
If you have tried several ways to lose weight but failed to do at least for last 2 years.
If you are a health seeker since obesity side effect is life threating.
But recognizing appropriate procedure among weight loss surgeries methods in Iran is up to your surgeon.
Advantages and disadvantages weight loss surgery in Iran:
Obesity is a complex medical condition associated with a great variety of complications which affect most organs through different pathways.
First of all, weight loss surgery in Iran has a positive impact on one's blood pressure, notably improves cardiac function and reduces risk of cardiovascular events.
Moreover, weight loss surgery in Iran is consistently associated with a clinically relevant reduction in triglycerides and increase in HDL cholesterol, also known as "good" cholesterol.
Metabolic surgery may be particularly suitable for patients with type 2 diabetes, as these patients may benefit from improved glycemic control compared to patients treated with medications alone.
In addition, obesity is widely recognized as a key modifiable risk factor for osteoarthritis, with significant improvements in pain and function reported with weight loss.
Obstructive sleep apnea and obesity hypoventilation syndrome tend to improve even when a moderate amount of weight is lost.
It is worth mentioning that sustained weight loss seems to be associated with a significant improvement in asthma symptoms, too.
Last but not least, several studies suggest that long-term weight loss surgery in Iran or other countries, not only improves health-related quality of life, but also has a very positive effect on a patient's self-esteem and so a more positive self-image can be built.
I ask you for more information in details go through different parts dedicated to various weigh loss surgery procedures in Iran mentioned above.
Some frequently
questions

may be yours too.
1. is weight loss surgery in Iran permanent?
The answer is yes provided that you pay attention post-operative instructions, sport and diet
Some weight loss surgeries are reversible including Gastric plication, gastric balloon, and adjustable gastric band
but the procedures like gastric sleeve, gastric bypass, and duodenal switch are totally permanent.
2. does bariatric surgery in Iran affect pregnancy?
There is no relation between pregnancy and weight loss surgery .and pregnancy after and before bariatric will be get through safely and weigh loss surgery in some cases help to have a comfortable duration. since this duration sometime is in danger regarding to the condition as a result of obesity.
3. how long is the wright loss surgery recovery duration?
Most of patient are able resume their normal activities after 1 or 2 weeks but be careful not to be physically under pressure since in first few months you are less energetic as a result of severe diet