chin surgery in Iran 
If the size and shape of your chin bothers, you just do few simple things below:
Open google.com, search chin surgery in Iran ,open WWW.IRANHEALTHAGENCY.COM ,press what's app bottom ,get an online consultation and quotation ,book a flight to Iran and leave the rest with Iran health agency .

Are you interested in getting information about?

Why chin surgery in Iran? how much does chin surgery cost in Iran? what is the procedure of chin augmentation in Iran? Pros and cons of chin surgery? Different type of chin surgery in Iran?
If yes stay tuned
 Travel to Iran for chin augmentation because:
Tons of board-certified surgeons: Iran is famous as the capital of plastic surgery world, definitely the success has been achieved by the Iranian surgeon who are comparable in capability to the American and European ones.
Plenty of well-equipped clinics and hospitals: according to the Iran's government perspective and politic regarding attraction of health tourists, private and even public hospitals and clinics have been invested in equipment and facilities.
Affordability: tanks to sharp Iranian Rial devaluation all kind of cosmetic and general medical procedures are performed at the low price while maintaining the quality.
How much does chin surgery cost in Iran?
Since chin surgery refers to different types therefore kind of chin surgery affects the price of chin surgery in Iran.
Chin implant cost in Iran: $800 to $1,500
Genioplasty cost in Iran: $2,000 to $2,500
chin augmentation with fat transfer: $400-$600.
chin augmentation with dermal filler: $200-$400.
---
Another service to make your smile and face more beautiful
dental veneers with best quality and lowest price + price list and packages
---
What are included in the price of chin surgery in Iran
Chine surgery costs in Iran can include:
– The cost of anesthesia
– Cost of surgical or hospital equipment
– medical experiments
– Special post-surgical clothing
– Medication prescriptions
– The cost of plastic surgeon in Iran
Chin implant for round face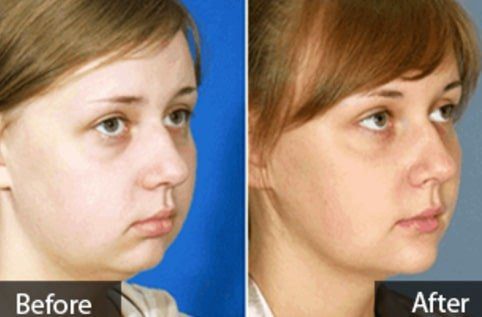 In recent years, chin implants for round faces have gained a lot of fans. The reason for this can be attributed to the change in the human definition of beauty. These days, unlike in the past, round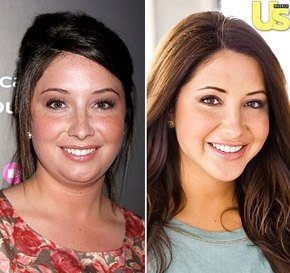 faces have fewer fans. Some people have a round face due to genetics or obesity. Aging can also
cause sagging skin and alter facial angles. While the angled or so-called V-shaped face gives the
person a young, juicy, and delicate appearance, which is highly desirable.
In round faces, the length and width of the face are usually equal. These people have a fleshy face and usually, the bones of their face are not visible. The cheeks of these people are usually not in good shape. A large percentage of people with round faces also have a double chin. This can make people look fat. For these reasons, people with round faces pay special attention to the angulation of the face. Chin implants for round faces can shape the chin area making your face look more attractive and younger. It also makes people look skinnier, which is especially important for overweight people.
Rhinoplasty in Iran is the most important reason for the travel of many people from Europe to Iran that you can think about this surgery at the same time as chin surgery and see its prices on the rhinoplasty .
Chin implant for asymmetry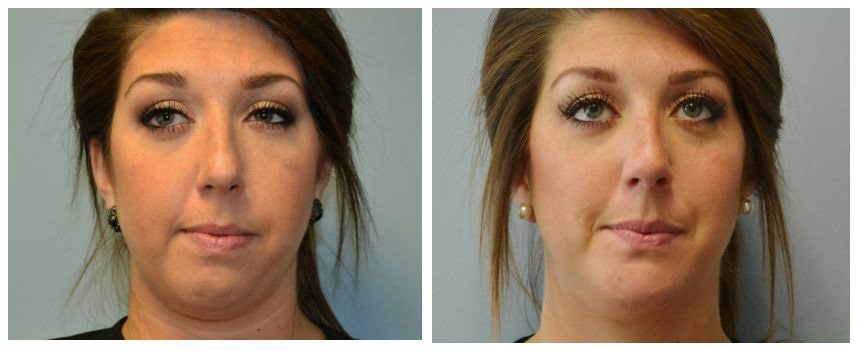 Another application of chin implant is to correct facial asymmetry. If you are one of those people who stand in front of a mirror for hours, compare the parts of their face, and finally come to the conclusion that their face is asymmetrical, do not worry because you are not alone! Facial asymmetry is a common problem that can be inherited. In addition to genetics, acquired issues and environmental factors also play a role in facial asymmetry. For example, any trauma in growth age (girls up to 18 and boys up to 21) may disrupt facial growth plates such as the growth plate of the jaw joint, nasal septum or cheekbones, and so on.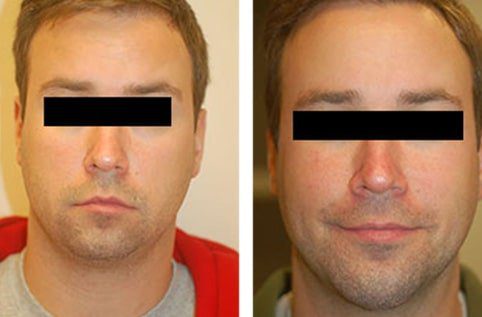 This asymmetry, however, is often not very noticeable, however, sometimes it could affect your beauty and self-confidence. Fortunately, you can correct chin area asymmetry with a chin implant surgery. An experienced surgeon knows the relative relationship between the cheeks, chin, nose, and jawline and can correct the angles of your face using implants. Balance and symmetry are the hallmarks of beauty, and a good plastic surgeon is aware of this.
 different types of chin surgery in Iran (AUGMENTATION & REDUCTION)
One of the facial parts that can disrupt the overall balance of face is the chin. A short or small chin can negatively affect the aesthetic of the face shape and make the nose look bigger.
In contrast, an oversized or raised chin can make the upper part of the facial face and nose look smaller. Even slight changes in the size of the chin can significantly improve the overall balance of the face.
Mentoplasty (also called genioplasty) is the name of cosmetic operation to correct the shape of the chin and there are many different techniques to do it.
2 main types of Mentoplasty in Iran:
Type 1-chin enhancement
Type 2-chin reduction
Chin enhancement in Iran by different methods:
When it comes to making the small and short chins bigger, there are 4 common procedures to perform the chin enhancement surgery in Iran
Osseous or sliding genioplasty in iran:
Candidates: patients having chin too small to be enlarged by injection or prosthesis, or the unusual complex of chin deformity.
Procedure: during the operation, the surgeon cuts the chin bone with a swinging saw and removes part of it. Then, he moves the remaining part of the jaw forward and holds it in place employing some special plates and screws. After fixing the bone in new location, the incision is closed and bandage is wrapped around the patients head intensively.
Time off surgery: sliding genioplasty in Iran takes around 45-90 minutes.
Durability: permanent
Before and after photos of sliding genioplasty in Iran: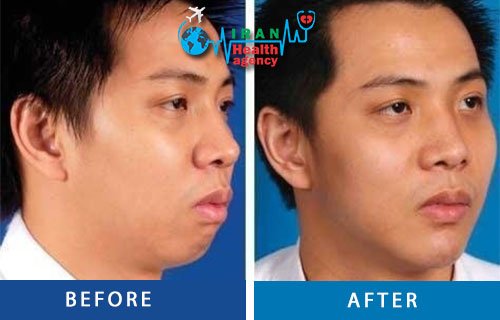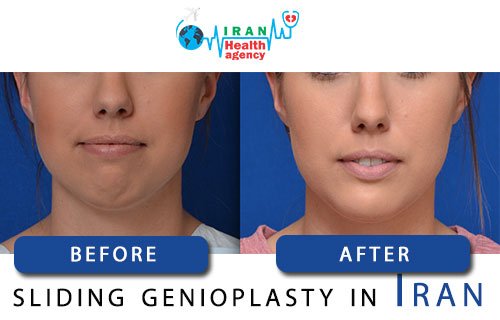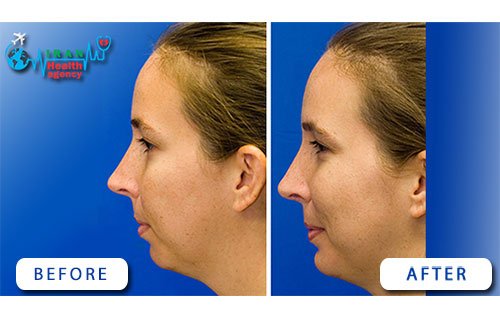 Candidates: cases suffering from weak chins requiring chin augmentation.
Procedure: some incision is made under the chin or inside the mouth in order to insert the prosthesis into the chin. not to mention in both cases the surgeon must cut and pass the several layers carefully not to damage the main nerve of the chin.
After creation of an empty space in the connective tissue inside the chin and disinfects it with a solution the sterile prosthesis is placed in the correct position then the incision is closed and the wound is covered with a stripper adhesive.
Time off surgery: Prosthesis implantation takes 30 to 60 minutes
Durability: permanent:
Before and after photos of chin implant in Iran: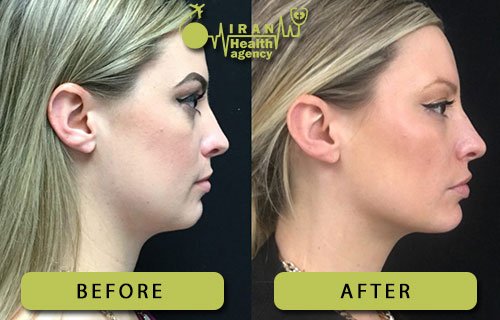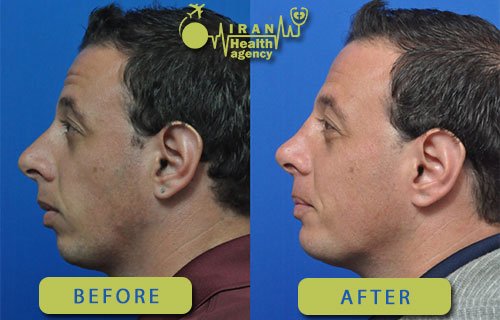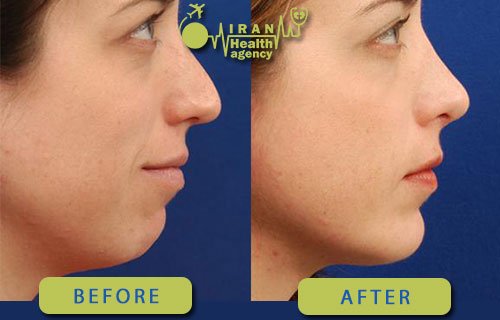 Fat transfer to chin in Iran:
Candidates: same as dermal filler candidates.
Procedure: This procedure is usually performed under general anesthesia consisting of 3 steps: 1) harvesting 2) filtration 3) transfer
Learn more about fat transfer in this page: fat transfer in Iran
Time off surgery: fat transfer to the chin in Iran takes between 1 and 4 hours, depending on the amount of liposuction and area treated.
Durability: fat transfer to the chin in Iran lasts 2-3 years
Before and after photos of fat transfer to chin  in Iran: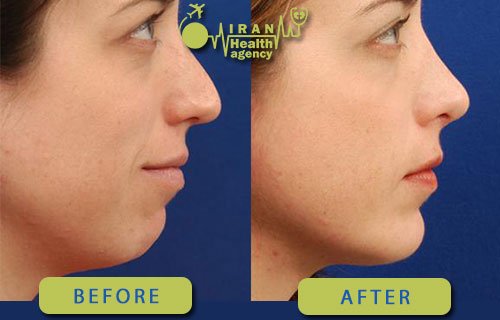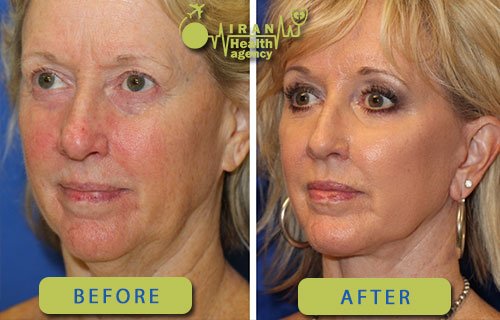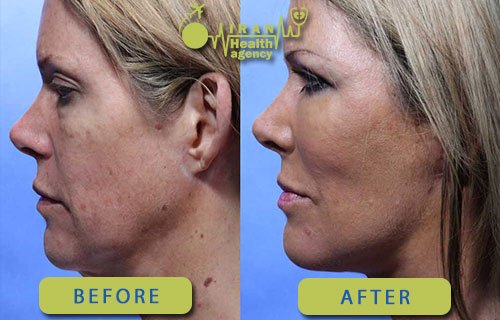 Candidates: seekers of non-surgical procedure to make balance between facial components
Procedure:  injection of dermal fillers under chin's skin in order to making jawline and chin augmented. Actually this procedure can be name chin augmentation in Iran
Time off surgery:10-15 minutes
Durability: depending on brand of filler but averagely 6-12 months
Before and after photos of chin implant in Iran: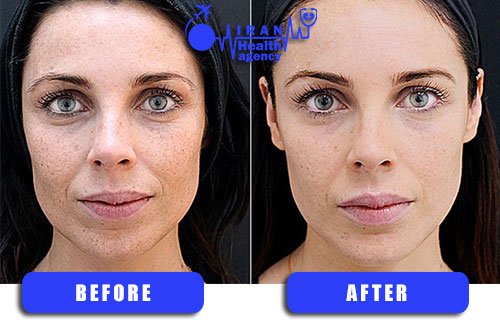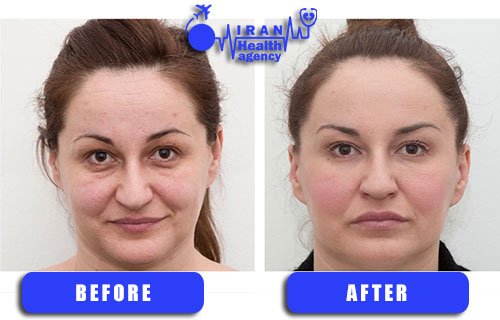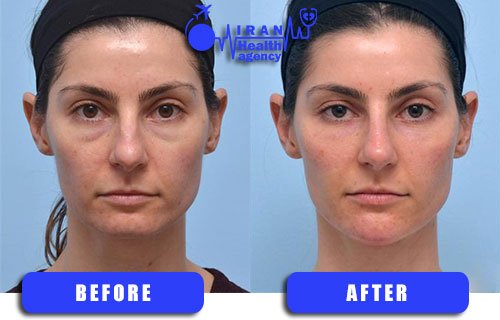 chin reduction in Iran by different methods:
In this method, the chin bone is cut and fixed in a lateral position. It is relatively wider procedure in but is capable of correcting wider chin disorders. There are 2 common types of chin reduction surgery in Iran.
procedure: In a direct chin reduction procedure in Iran, the surgeon makes the incision either under the chin or inside the mouth and removes the extra bone using a "bar" which is a surgical drill.
The surgeon removes a part of the chin bone that resembles a horseshoe and slides it back or forth. Once selected, the chin bone is secured in place using a series of special wire or metal plates and titanium screws. Finally, the surgeon sutures the incision and covers it with adhesive tape.
Time off surgery: Usually, this type of surgery, depending on its complexity, takes about 1 to 1.5 hours
Durability: permanent
Osseous or sliding genioplasty in Iran:
Sliding genioplasty to reduction of the chin is similar to Sliding genioplasty
for enlarging the chin. However, the difference is that the bone is cut back rather than pulled forward.
Before and after photos chin reduction surgery in Iran: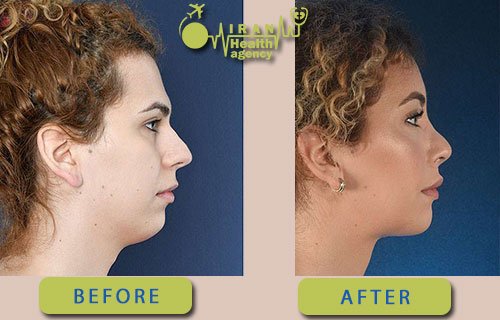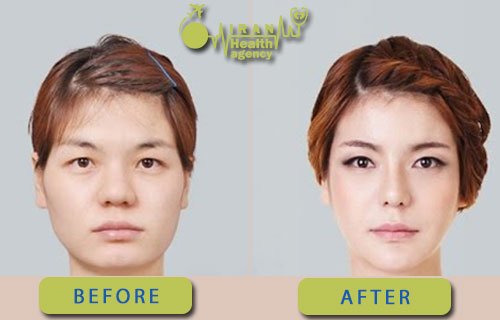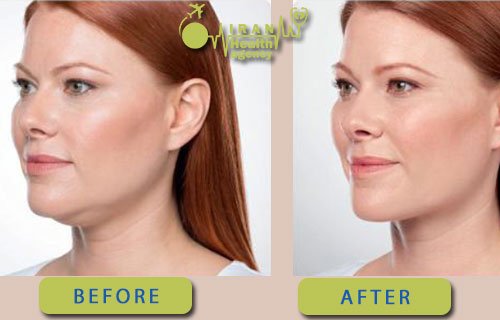 Preparation of chin surgery in Iran:
Patients should stop smoking for two weeks before mentoplasty in Iran
stop taking any medication that contains aspirin or anti-inflammatory steroid medications.
If the surgeon wants to make a cut under the chin, the patient should use an antibacterial facial cleanser two days before the chin cosmetic surgery.
Patients who are scheduled to have a cut in their mouths should also be rinsed their mouth three times a day for two days before surgery.
Patients should refrain from eating or drinking for eight hours before chin cosmetic surgery in Iran.
---
Read another article you might like!
revision rhinoplasty in Iran and its details
---
What to do after chin surgery in Iran:
After chin surgery in Iran, a special cosmetic surgical garment is placed on the patient's head and face to help control swelling and reduce surgical chin movement.
The patient should wear this garment throughout the first week after chin surgery in Iran.
Usually within 3 to 5 days there will be moderate pain or discomfort.
Patients can resume their activities after one week, but should avoid any activity or intense exercise, especially collision sports, until 6 weeks after surgery.
Realistic outcome of chin surgery in Iran:
The outcome of chin surgery in Iran seems quite natural. in general, it can be said that the purpose of chin surgery is to beautify and balance facial components by creating a chin with a natural appearance.
However, keep in mind that it may take up to 6 weeks for the final result to be noticeable .
The result of the chin surgery in Iran is permanent except filler and far injection, but it should be borne in mind that as the older you get, the shape of it is also changes.
For example, the tissues around the chin are constantly affected by aging and gravity.
What are the risks of chin surgery in Iran?
Complications from mentoplasty and genioplasty surgery in Iran rarely occur. However, some patients face some  infection in the chin or lip, which is usually resolved by antibiotic use
Also, over time, the bones of the chin are slightly gets a little worn however, should be mentioned this condition usually does not cause any medical problems, discomfort or changes in the appearance of the chin.
In genioplasty in Iran, wires or straps are removed if discomfort occurs. In addition, patients may experience numbness in the chin and lips, which is temporary.
It should be noted that the dangers of chin cosmetic surgery rarely occur.
Some frequently asked question(faq)
+If I didn't like my chin implant, could it be removed?
-the removal of chin implant is a quit simple procedure and will be performed not facing any problem. But in some cases prosthetics creates a hole under the bone of chin with change the shape of chin comparing to the initial form.
+Does chin implant frequently move?
– When everything improves, the chin implant will remain in place for ever. But sometimes in the early weeks after chin surgery and before everything is fully healed, the chin implant can get out of position. This is very unusual, but its correction requires the person to return to the operating room to return implant to the right position.
+Is the scar of chin surgery visible?
Since it is a minimally invasive procedure, the scar is either not formed after chin surgery or is very minor in case there is scar, it will be invisible and the patient recovered quickly.
+how is the procedure of double chin removal in Iran?
During the double chin surgery in Iran, the chick or the extra skin under the chin are removed, which is loosened by the accumulation of excess fat.
In double chin removal surgery which is also called chin liposuction, excess fat is removed from the chin. This is a quick operation that can be done on an outpatient basis. After surgery, the patient will have a new face with a more prominent jaw and a chin free of excess fat and skin.
Notice: When all else fails, keep your chin up ,smile and go forward more strongly
https://iranhealthagency.com/wp-content/uploads/2019/11/Chin-Surgery-in-Iran.jpg
425
800
Boroji
https://iranhealthagency.com/wp-content/uploads/2021/05/logo-iran-h.png
Boroji
2019-11-04 09:34:57
2021-04-24 14:02:58
Genioplasty (Chin Surgery in Iran ) Types, Complications, and Outlook