Noses structurally and in terms of shape are known in a number of categories among ordinary people and even specialists.one of them is meaty or fleshy nose.
Before starting your study, I would like to introduce you to the rhinoplasty in Iran, which offers the best quality and best price for you.
I highly recommend viewing this page.
Do You Know How Much rhinoplasty Costs in Iran?
1-Is my nose meaty?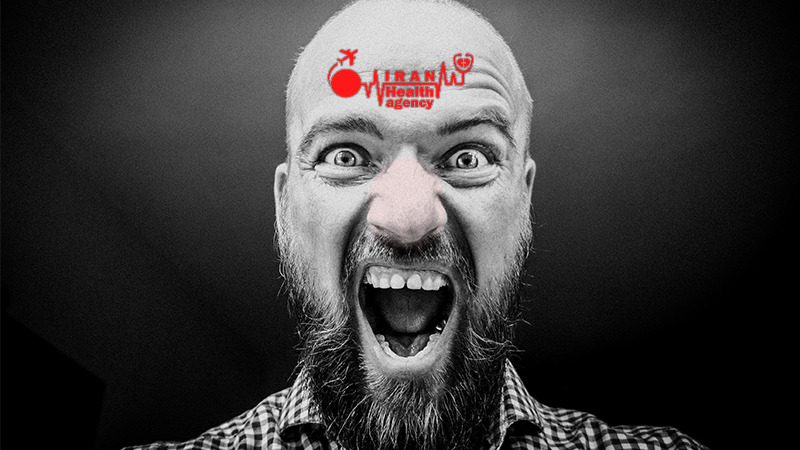 There are some signs to recognize what the shape of your nose is. the obvious features of meaty or fleshy nose include:
Thick skin on the tip of the nose
The visible pores of nasal skin
Wide nostrils
Big and bulbous tip
The wide lower part of the nose
the thin and weak skeletal cartilage of the nose
if you can find the mentioned attributes you have a meaty nose.
2-What are the techniques of meaty nose job?
In fleshy or meaty nose job the main goal is to narrow the lower half of the nose as far as possible. forming the tip is another aim.
To get the mentioned outcome, the surgeon tries to strengthen the nasal cartilage employing the patient's own middle cartilage. Sharped and bold cartilage applies pressure on the thick and oily skin and creates a narrower nose.
In meaty noses, the surgeon avoids shaving cartilage and nasal bones only in cases, there is a hump on a septum.
3-Meaty closed Rhinoplasty or Meaty open Rhinoplasty?
There is no limitation on the methods that surgeon can choose for meaty Rhinoplasty. therefore, both closed and open Rhinoplasty can be done in cases of meaty noses.
But the more effective one is open method since in a closed one, surgeon hardly has accessibility to inner part and the tip of the nose is limitedly visible, so the rate of success in open meaty nose job is much higher.
4-Is meaty Rhinoplasty harder?
Actually both bony or meaty noses have the same rate of difficulty after surgery but meaty noses have the longer recovery.
5-What is the best age for meaty Rhinoplasty?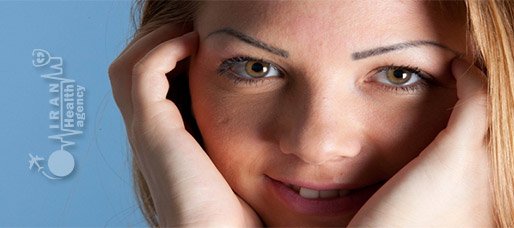 Nose surgery should be done when the growth of facial components, especially the nose, is complete, so if the motive for nasal surgery is not to treat defects such as congenital defects or nasal obstruction or abnormalities, it should be performed by the end of puberty.
Although it can be done for girls after the age of 14 and for boys after the age of 16, it is usually best for individuals after the age of 18 as the growth of the facial components is completed.
---
you may like too read!
how to get rid of swelling sooner after Rhinoplasty article is full of interesting information for you!
---
6-How much does a meaty Rhinoplasty cost?
The price of meaty Rhinoplasty is defined by multiple factors including: destination, Surgeon's reputation, case severity and the rate of hospital.
Fleshy or meaty nose surgery is more difficult than other operations because of the delicacies it requires during surgery.
The cost of this procedure is estimated by the expert depending on the type of meaty nose and the type of required method.
7-what to do before meaty or fleshy nose job?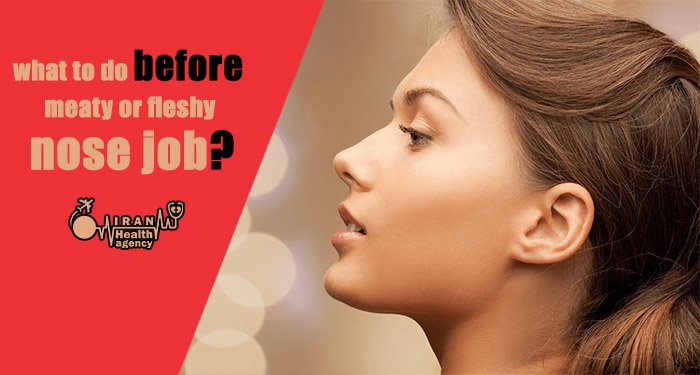 One of the most important steps that a candidate should take prior to fleshy nose surgery is to select a skilled and knowledgeable nose surgeon.
For the two weeks before the nose surgery, avoid taking medications that lead to blood thinning, such as aspirin and anti-inflammatory drugs such as ibuprofen and indomethacin.
If you are taking a particular medicine, be sure to tell your doctor before your nose surgery.
Quit smoking and alcohol drinks at least a week ago until two weeks after nose surgery.
At the consultation, share your expectations and wishes with your nose surgeon
The nose surgeon recommends a series of tests for the candidate of meaty nose surgery
If you have a herpes or cold, be sure to tell your doctor immediately.
Take a shower the day before your nose surgery.
Be fasting 8 hours before nasal surgery.
We advise the nose surgery candidates to wear comfortable and preferably open fronts for this cosmetic surgery so that they do not have any problems after surgery to change clothes.
8-How long take a meaty nose job?
Required time for meaty nose job totally depends on case severity but normally any kind of Rhinoplasty needs 1-3 hours.
best revision rhinoplasty in Iran (lowest cost)
9-what to do after fleshy nose job?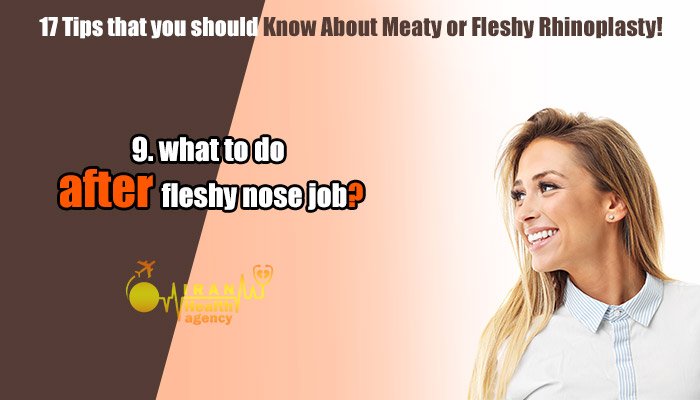 Using cold compresses for up to two days after the procedure helps to improve the swelling of your face and nose.
Eye bruising, sore throat and blood discharge for the first few days after surgery, as well as numbness around the nose for up to 3 weeks are normal.
It is recommended to keep the head in upper position than the body for 1 to 2 days after surgery. Avoid sleeping sideways for up to two weeks, as the pillow pressure can cause nasal deformity or swelling.
Use liquid and soft foods in the feeds to minimize displacement of the face and jaw. Also avoid eating spicy, hot tea and foods, coffee.
When sneezing, try to open the mouth more to put less pressure on the nose
Avoid pressing and dropping your nose. You can use cotton or a syringe to help clean the nose.
Put on buttoned or zippered clothing as far as possible to avoid negative impact on the nose when wearing and removing.
Swimming pools, saunas and Jacuzzi, diving, high jumping and sunbathing are generally prohibited for up to 6 months.
Be sure to consult your surgeon for pain killer medications. Medications such as aspirin and ibuprofen can cause bleeding due to decreased blood coagulation.
You can go walking for up to two weeks after surgery, but postpone intensive exercise for up to six months.
Avoid exposure to sunlight and heat, such as a stove or a heater, for up to 3 weeks after surgery as heat can cause nasal swelling.
10-what are the complications of meaty Rhinoplasty?
The only complication of meaty nose job in comparison to bony one is long recovery. I mean because of thick skin and soft tissue 1-3 years are needed for the final shape.
11-will meaty nose job reverse to the previous shape?
There was a common believe among people that meaty noses are not good candidates for rhinoplasty in terms of reversing back to the previous shape but nowadays, existence of new methods and techniques has solved this problem.
12-how long is meaty nose job recovery?
Thanks to new techniques and modern tools recovery duration of meaty nose is only 7-10 days.
13-Is Corticosteroids injection effective on meaty nose job?
Corticosteroids is normally injected into the nose to reduce nasal swelling.  And It normally happens after meaty or fleshy Rhinoplasy due to the thick skin of meaty noses, the swelling in nostrils is more than bony noses. Therefore, corticosteroids helps with sooner healing.
It should be noted that injecting corticosteroids into the bony nostrils will destroy the subcutaneous tissues.
14-can enzyme replace rhinoplasty in meaty noses?
Enzyme injection is not a definite answer for making the meaty noses small because gaining weight and even pregnancy ruin the result and it get back to previous form.
before and after photos of rhinoplasty in Iran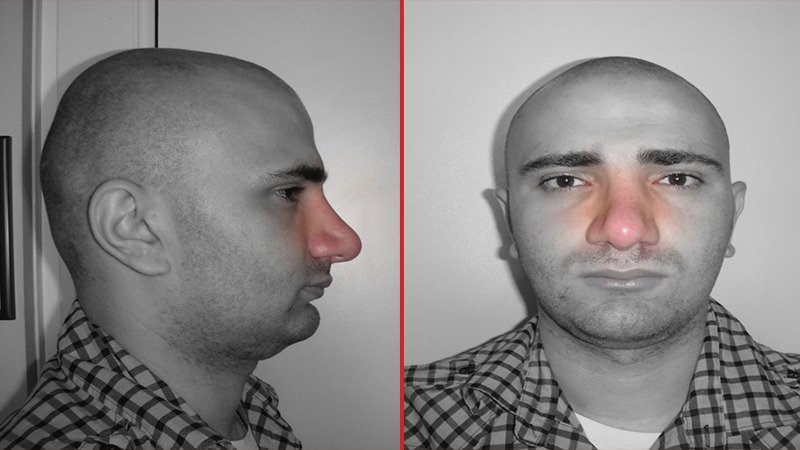 15-does Laser work with meaty noses?
Nowadays, you may have heard a lot about nose surgery with laser., although there is a very wide use of laser in medical science, unfortunately, it has not progressed so much that in nasal surgery field. Actually the only use of laser in nasal surgery is to remove scars caused after Rhinoplasty
laser nasal cosmetic surgery is only propaganda and scientifically inaccurate.
16-where Is the best country for meaty Rhinoplasty?
When you decide to have a Rhinoplasty abroad, Iran can be reliable option. since Iran is famous as nose capital of the word.
Abundance of experienced surgeons,board certified and graduated from American and European countries ended up this great achievement .
17-how much does meaty nose job in Iran?
Meaty rhinoplasty price differs in terms of surgeon reputation case severity city and rat of hospital. But normally fleshy or meaty nose job costs 1300-2000 $ in Iran.